Belvedere of the Dordogne
Listed as a National Historical Monument, surrounding a stone-tiled château from the early 19th Century, the romantic and picturesque Marqueyssac Gardens offer over 6km of pathways surrounded by over 150 000 hand-pruned boxwoods, with viewpoints, rockeries and stone cabins. Situated on a rocky spur, the viewpoint offers one of the most impressive panoramic views of the valley and it's many châteaux. The viewpoint has been awarded 3 stars in the Michelin Vert Guide.
Today it is the most visited garden in the South-West of France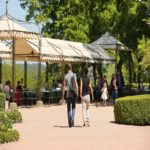 News
The restaurant & tea-room is open every day in October from 12 pm onwards ! Serving sweet and savoury food, you can dine inside or enjoy the view from the panoramic terrace.