We cater for all. Take a break and enjoy our tasty and refreshing treats in the heart of nature !
Restaurant & tea-room

Open from Saturday February 4th, 2023 until Sunday November 5th.
Located in the north wing of the castle, Marqueyssac's restaurant & tea-room is a popular meeting place. It offers light, tasty cuisine and all sorts of refreshment, served in an exceptional setting, on the shaded panoramic terrace or even, if the weather does not permit, inside the château. Whether you enjoy the viewpoint outside that dominates the valley, facing the village of Beynac, or the cozy atmosphere of the restaurant, you will taste products especially selected to offer you the best value for money all while savouring the landscape.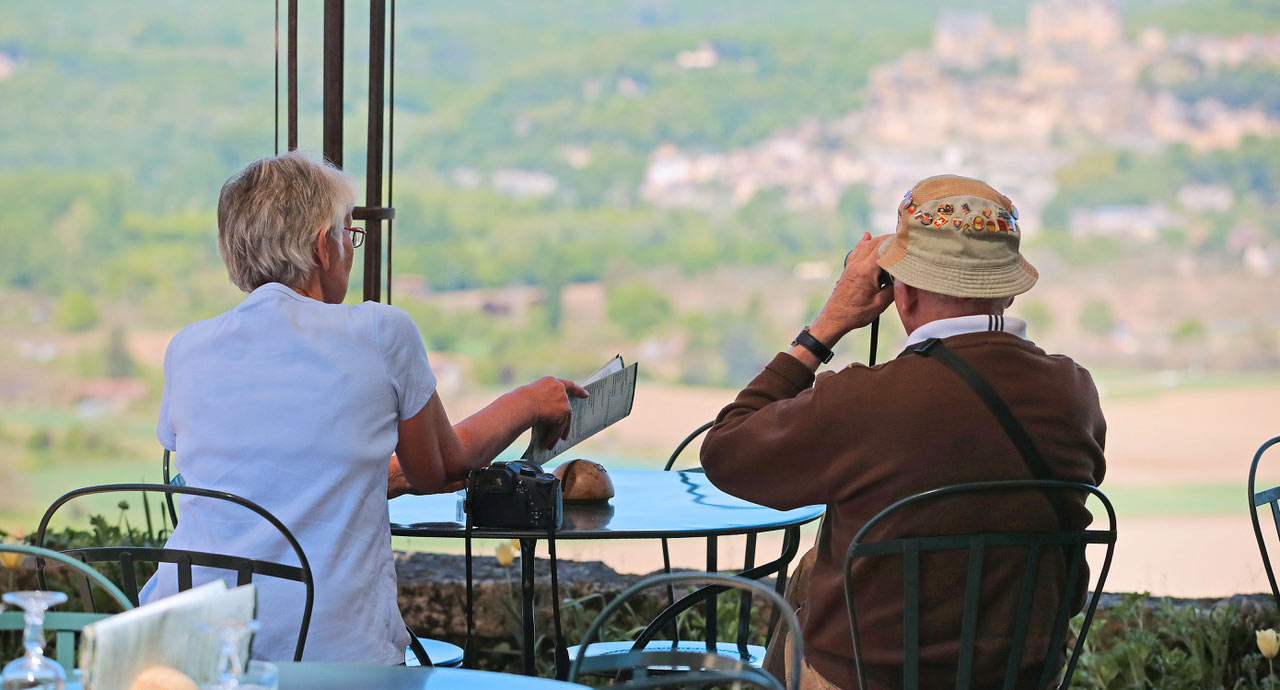 Using mainly local and artisanal products, the menu offers a wide variety of salads, Périgords specialities, pastries, ice-creams and cocktails, as well as a large selection of teas.
Good to know
We do not take reservations. In high season, we highly recommend going to the restaurant & tea-room around 2.30 p.m., once the midday rush has passed. This also allows you the opportunity to enjoy your walk along the shaded paths at a quieter time. The waiting time can vary between 5 to 45 minutes. Service until 4 p.m. in high season.
During candlelight evenings, service is limited to pastries, ice-creams and beverages.
The creperie
Open every day in season.
If you are feeling peckish, why not head to the creperie ? Located in the centre of the park, a stone's throw from the Esplanade, a shaded terrace awaits, hidden between trees and boxwood. The perfect place to enjoy our homemade crepes (sweet and savoury !).
Our sweet and savoury crêpes are made with organic flour and fresh produce.
The summer sandwich shop
Open every day in July and August.
If you feel like a simple lunch or snack, the sandwich shop is ideally located on the other side of the park, near the playground and huts. Offering homemade sandwiches and sweet treats, everything you need after the walk to the Belvedere !
Our sandwiches are exclusively made with local products, including cured meats from « La Maison Vaux » in Sarlat. We also propose a selection of artisanal biscuits from « Lou Cocal », ice-cream and cold drinks