Via Ferrata of Marqueyssac
The course was fitted out by a company specialised in fittings and safety for heights  The opening to the public was subjected to the agreement of an audit office. Facilities are in accordance with the European standarts and are verified daily by us.
Two annual checks are made by a registered body.
The site thus presents all the guaranties of safety essential to this activity.

The Via Ferrata in figures

Cliff course more than 200 meters long

Average height of
around 15 meters high

Activity's duration, 45 minutes,
equipment and security advice included
The continuous life line and the equipment
The continuous life line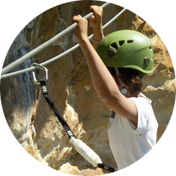 Facilities done in Marqueyssac make it the first Via Ferrata of continuous life line in the world.
With the help of a slide on the cable, each follower is connected to the line during the whole route. This system doesn't need any security handling to the follower who can't undo the life line before the end of the route and his return on foot towards the start in a totally secured area.
Equipment
For your safety and your comfort, we provide you all the equipment to practice the activity : harness, lanyard with absorber, helmet.
For security reasons, personal equipment of participants is not accepted.
We provide you with equipment in accordance with the rules relating to the individual safety equipment (EPI).
Checks are regular in order to assure an optimal safety and quality.
Instructions for use of individual safety equipment and their conformity certificates are available on request

The helmet
It protects the head in case of falling stones or shocks against the rock. It is essential.
Its size is adapted to your morphology by our operators who adjust it so that it won't move.

The harness
It's the essential element to evolve on the cliff. It' s on the harness that the lanyard will be attached. Three types of harness according to the participants' morphology. : the choice of the harness is made by the operator who equips you.

The lanyard
It connects the harness to the life-line. Marqueyssac Via Ferrata's special lanyard is fitted out with a sole connector adapted to the continuous life-line. It is fitted with an energy absorber which may tear in case of a fall.